Saturday the 16th of September 2023, 19.00 – 23.00, there will be a social event at Scandic Hotel in Silkeborg.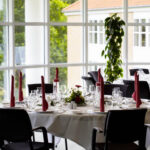 The menu will be a "Sports-buffet" with different kinds of salads, bread, dishes with different kind of meat, fish and a vegetarian dish, cake, cheese, fruit and coffee/the. Ice-water and lemonade will be served at the tables.
The price per person is DKR 265,- / app. € 36,-
Registration and payment for the social event is via silkeborg-ok.nemtilmeld.dk not later than the 1st of September 2023.